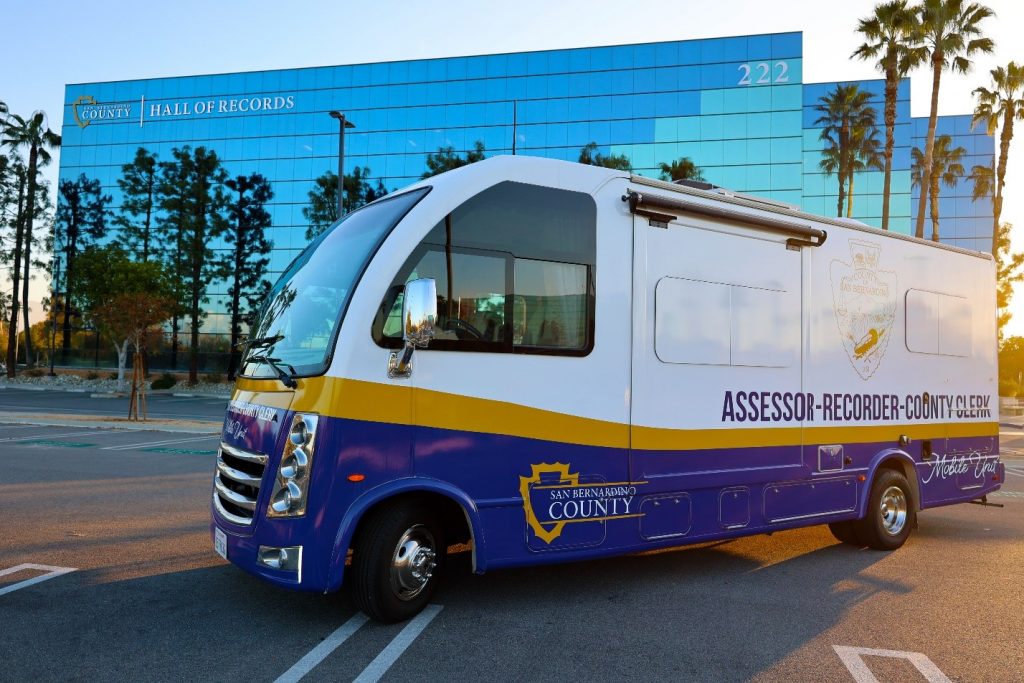 (January 12, 2022) SAN BERNARDINO, CA – Today, the San Bernardino County Assessor-Recorder-Clerk (ARC) is announcing its newest office location for increased services. The office space is located… wherever you need ARC to be.
The ARC Mobile Unit is an RV equipped with the latest technology to allow for the remote production and secure issuance of vital records copies (birth, death and marriage certificates), marriage licenses, marriage ceremonies and recording of documents. In response to the increase of COVID cases throughout the county, the ARC Mobile Unit is currently deployed outside ARC's main office at 222 W. Hospitality Lane, in San Bernardino, CA. The Mobile Unit will provide additional workstations outdoors for the next few weeks to support ARC services.
"Through the leadership of our County Supervisors, I am proud to announce the ARC Mobile Unit that gives our department the capability to provide essential services to communities anywhere in San Bernardino County," said San Bernardino County Assessor-Recorder-Clerk Bob Dutton. "ARC services will now be accessible to more residents in San Bernardino County. With safety being a priority, we can provide services outdoors that promotes social distancing to keep both customers and staff safe."
Federally funded through the CARES Act, the ARC Mobile Unit was a joint project of the County's Administrative Office, Fleet Management Department and the Assessor-Recorder-Clerk Department.
Through the expertise of San Bernardino County's Fleet Management Department, the ARC Mobile Unit was retrofitted from a recreational vehicle to become a county office-space on wheels. The ARC Mobile Unit rides on the American built Ford 2018 Vegas Thor RV. Utilizing renewable energy as it is equipped with solar powered batteries, the RV also has mobile internet capabilities, and can accept payment via debit/credit card. The ARC Mobile Unit will provide essential services at public events and will be deployed as needed to assist in future county disaster recovery efforts.
Contact:
Aldair Jimenez
ARC Project Administrator
aldair.jimenez@arc.sbcounty.gov